Certified Health & Life Coach
I am Debbie Orman, otherwise known as The Tai Chi Health Coach. I am a certified health coach and a life coach with an occupational therapy background and a psychology undergraduate degree. 
For my business as Certified Health Coach and Life Coach, I chose the name The Tai Chi Health Coach at a Dream Big entrepreneur event that I attended when I started my business. I chose this name because I intentionally embody and incorporate the tai chi principles of relaxation, strength, alignment, and gentle flow in my coaching programs, and I've been studying tai chi for 30 years.  
I am also a recovering self-sacrificing mom of 2 teenage boys. There were times in my life as my kids started to get older when I finally had some free time and struggled with anxiety and a feeling of emptiness trying to remember what I used to do to just relax and enjoy myself. I also felt as if I lost myself and my sense of purpose.
About four years ago, a world of possibilities and opportunities opened up to me when I was given a series of discovery calls with an energy coach that lead to me realizing the importance of investing in my personal development, while my kids were younger, and realizing I could create a ripple effect by being an example for them. At the time, although I was doing ok overall, as the normal stressors of life happened, I would find myself struggling with anxiety, self-doubt, and overwhelm. Ever since, I've been on the journey of investing in myself with coaches, including fellow health/life coaches that emphasize self-care and self-love gradually gaining a deeper appreciation for myself and understanding of myself and others.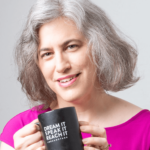 "When you take care of yourself, you are taking care of your loved ones."